Sportwhirl, Inc. 1951-1977 (page 1 2 3 4)

Betty, Arthur and Bernie Goodman 1956
1951--Jeanne had been invited, and joined, the design house of Sportwhirl, Inc. as the new designer. Jeanne was a long time friend of Lorraine Budny who preceded her at Sportwhirl. (Lorraine worked at Sportwhirl for four years before returning to her former employers at Adler & Adler.) Located at 498 7th Avenue, Sportwhirl was founded by partner-brothers, Rubin and Arthur Goodman in 1945. The third and youngest Goodman brother, Bernard, was the treasurer of the firm, and Arthur's wife, Betty, became fashion director. Much later, in the early 1970's, Arthur and Betty's son, Peter, joined the company. The Goodmans supported Jeanne's strong belief in practical, colorful, informal clothes, and her conviction that young women should be able to buy high style at a reasonable price. The tight Goodman family management formed the backbone of the business, and Jeanne became the heart.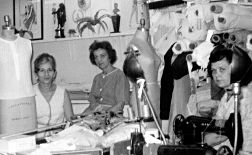 Sample Makers (left to right): Hella, Hilda and Maria 1964
Jeanne finally had the staff and assistance that she always dreamed of. Sportwhirl was a bigger house, one of the major sportswear companies, and offered her more opportunities to be creative. Jeanne got to work and proved herself worthy of her position, however, she gave the Goodmans even more than they anticipated--26 years worth.
Jeanne produced lines for Sportwhirl similarly to what she had done for Loomtogs, except they were larger and more diversified. Less resortwear, and more daytime suits, skirts, jackets, coats, blouses, pants (with a fly in the front, like men's pants--which she argued for), dresses, shorts, etc. all of which she had five-years of experience in. The one thing they asked her to do, that she hesitated about was dressy holiday separates.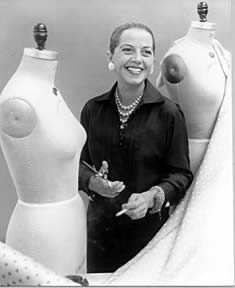 "It was just that I didn't see how I could project myself into dressy clothes of any kind," Jeanne says. "They weren't in me, I thought. That had always been the one thing I thought I could never do. But of course when I really got started," she adds, "I found doing dressy clothes allowed me as much freedom as sports clothes. I managed to be pretty daring finally--splashed sequins here and there and used all sorts of fancy details." An excerpt from Beryl Williams', "Young Faces in Fashion".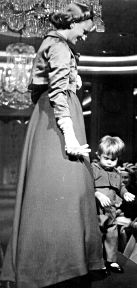 Jeanne's designs weren't extravagant or terribly trendy. They weren't expensive like the Norman Norell's, James Galanos' or Pauline Trigere's were. They were clothes for every woman designed to be timeless classics.
As Jeanne said to Women's Wear Daily, when chosen one of their 1970 "Women of the Year", "It's a no-age, no-price look. And it's up to the person who wears it to make the look."
In the book, "The Wheels of Fashion", Phyllis Lee Levin described Sportwhirl's buyer and designer,"...for the thrifty, busy, bright young woman who spends money on sports, schools, on trips as well as clothes. Luckily, Sportwhirl's designer not only understands this woman but is this woman."
Ms. Levin also went on to say, "Perched on a radiator top sipping Coke while reviewing a salesman's sample books of buttons or fabric swatches (she sees about 130 lines), Sportwhirl's designer looks exactly like a nice young woman you'd run into at the frozen-food counter of the A & P. Her complete understanding of her work and of her audience probably accounts for her being the only designer in her price market to be crowned with honors and prizes usually reserved for men and women making clothes in the rarefied brackets."